Showroom Pollmeier
Hövelhof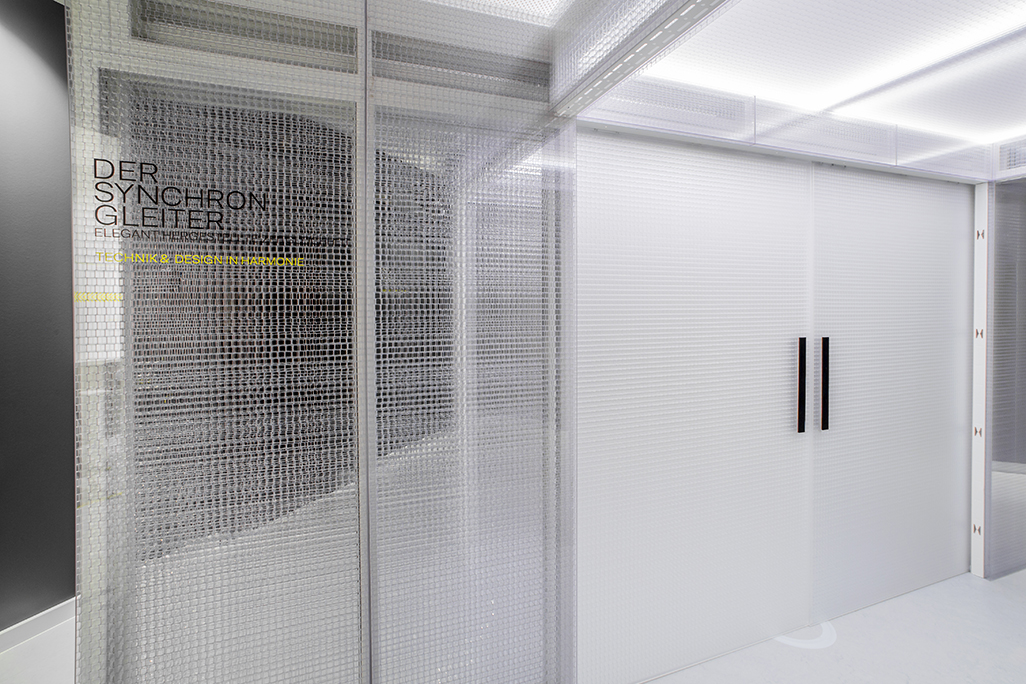 INFOS Project: Showroom for company Pollmeier
Completion date: 09/2021
Location: Hövelhof, Germany
Architect: Paola Bagna & Elisabeth Müller
Area: 120 m2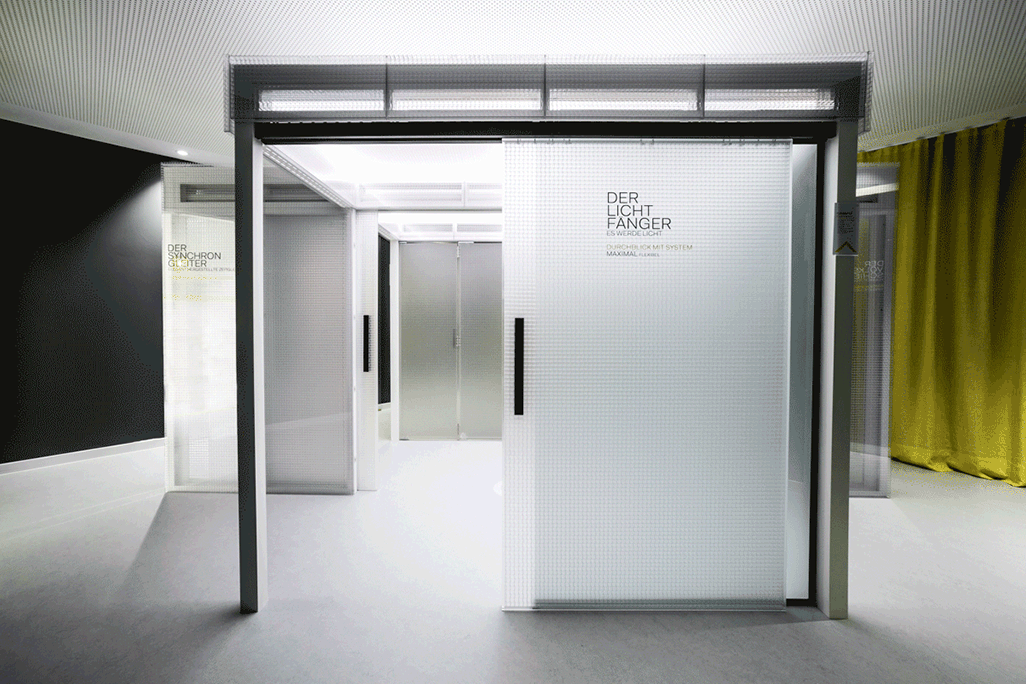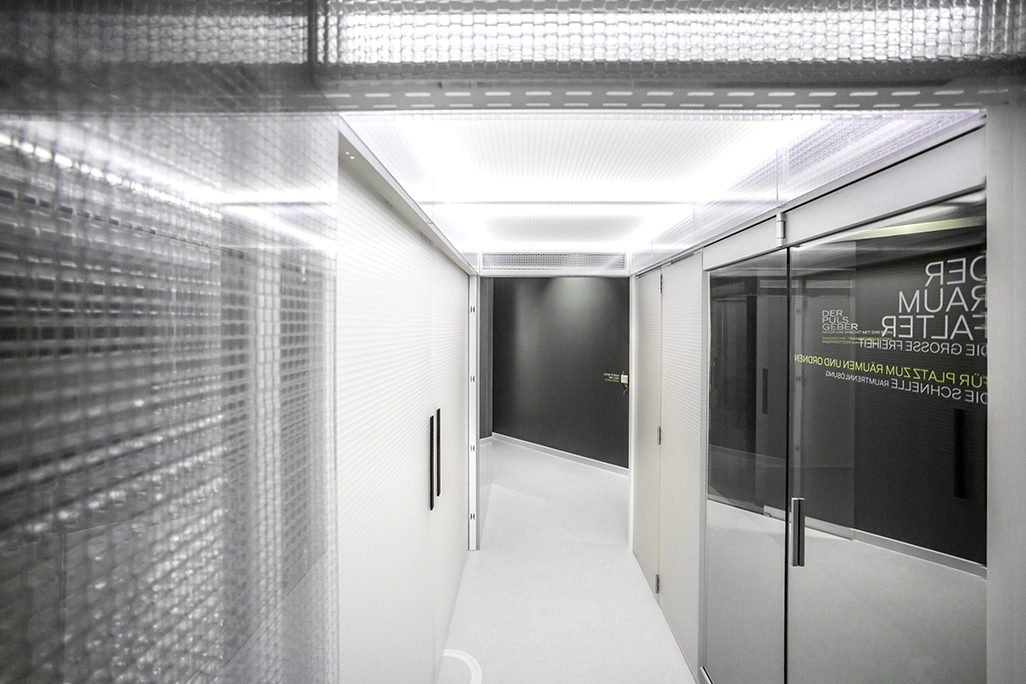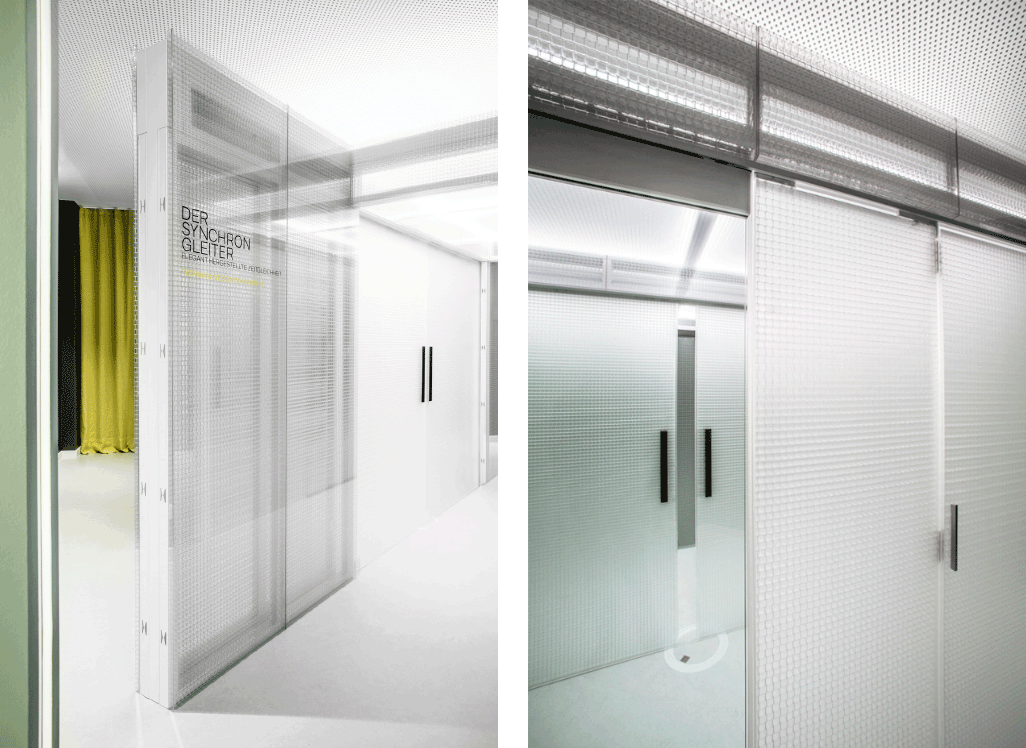 The Pollmeier showroom on the 1st floor of their Hövelhof office consists of three interconnecting square rooms, linked by a connecting corridor.
At 3 x 18m, the corridor conveys a foyer character to the exhibition space.
Hinged and sliding doors and fittings are showcased within this exhibition. The exhibition design concept is based on the idea of a course or parkour. This course invites customers to a varied and eventful ramble, in order to approach the topic of door technology on different spatial as well as content-related levels.
There are several defined stages to the course with different atmospheres, functions and qualities of experience.

In each stage, the customer can discover products and company stories and the associated information with all his senses.
The exhibition foyer. In the 18m long exhibition foyer space the Pollmeier story and company philosophy is presented via a miscellany of 2d and 3d exhibits including dummies from the research department, portraits of the makers and inventors, high-end fittings and technical drawings. The atmosphere is lively, witty and creative.
The long dark wall opposite displays large-scale typography and messages. It invites a first glimpse of the next stage of the parkour.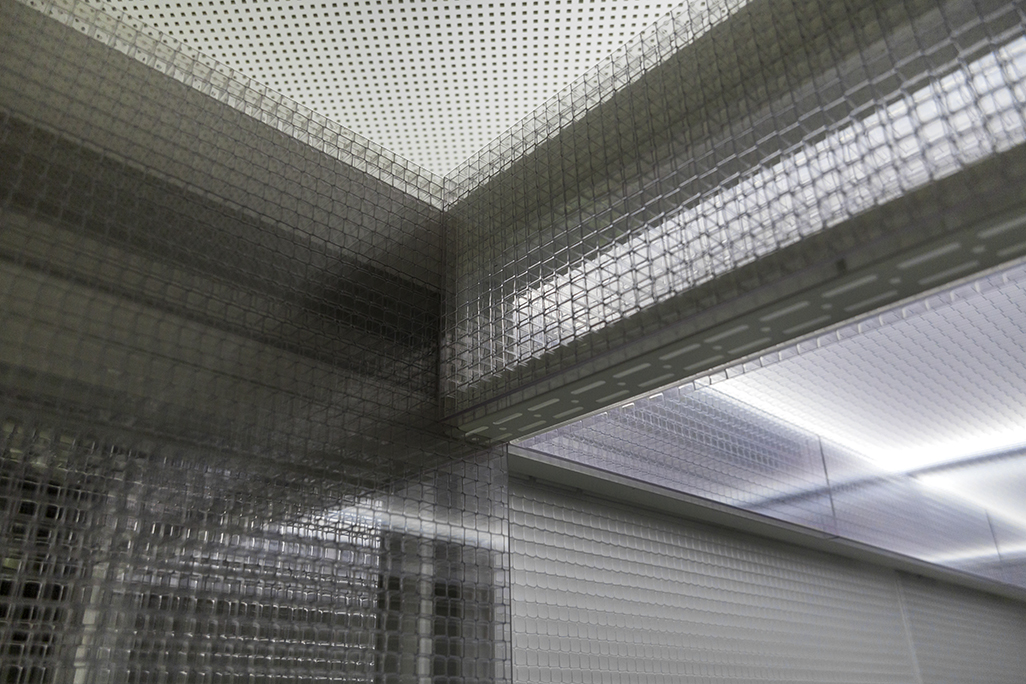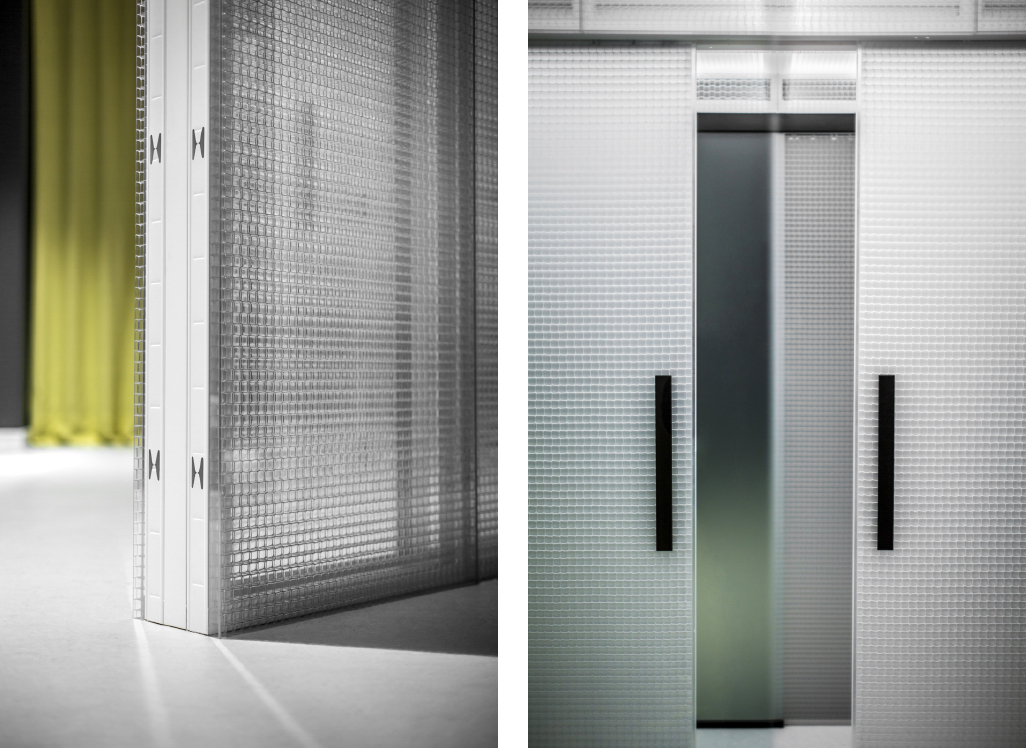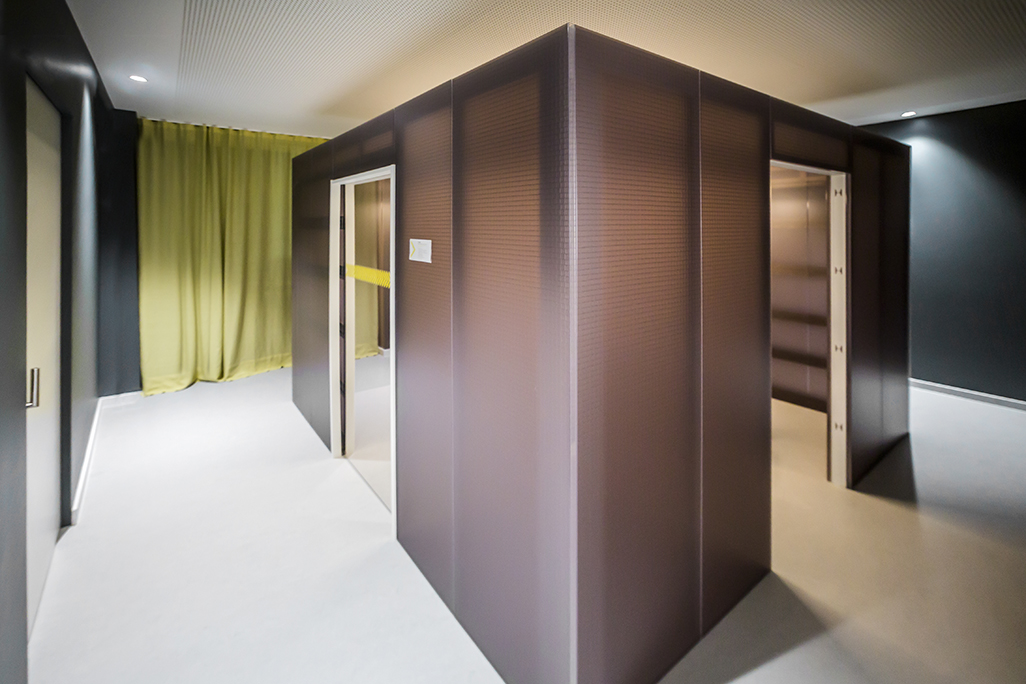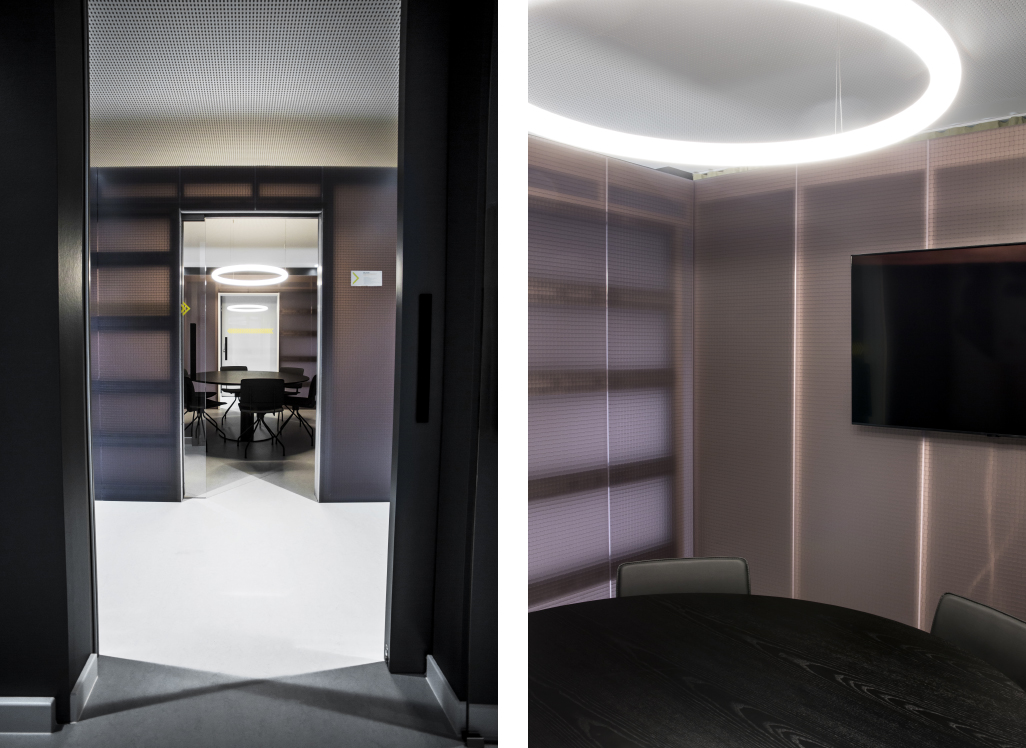 The cubes. Each of the three rooms is staged according to the "house within a house principle" with a set, individual, cubic structure with a significant character.
The primary supporting structure consists of metal profiles. A palette of translucent and solid materials create walls on and in which the doors, accessories and full array of Pollmeier products find their place.
In these abstract and artistically lit constructions the contours of dream and reality blur to produce surrealistic worlds. Movement of the sliding doors transforms the rooms to produce an interactive experience.

The light from the external windows is calmed by a wall of curtains and provides a subdued dose of daylight to create atmospheric spaces with carefully placed light tubes. In the middle central space there is a meeting point. Simple cubic seats invite visitors to linger, talk and exchange. The exhibition provides a flexible and multifunctional space to think together into the future. Finally the "blue box" room displays flush and sliding doors from daughter company Wingburg. All three rooms are connected with sliding doors to enable a continuous view, following the 18m longitudinal axis throughout the entire exhibition area.