Mitte Mezzanine
Berlin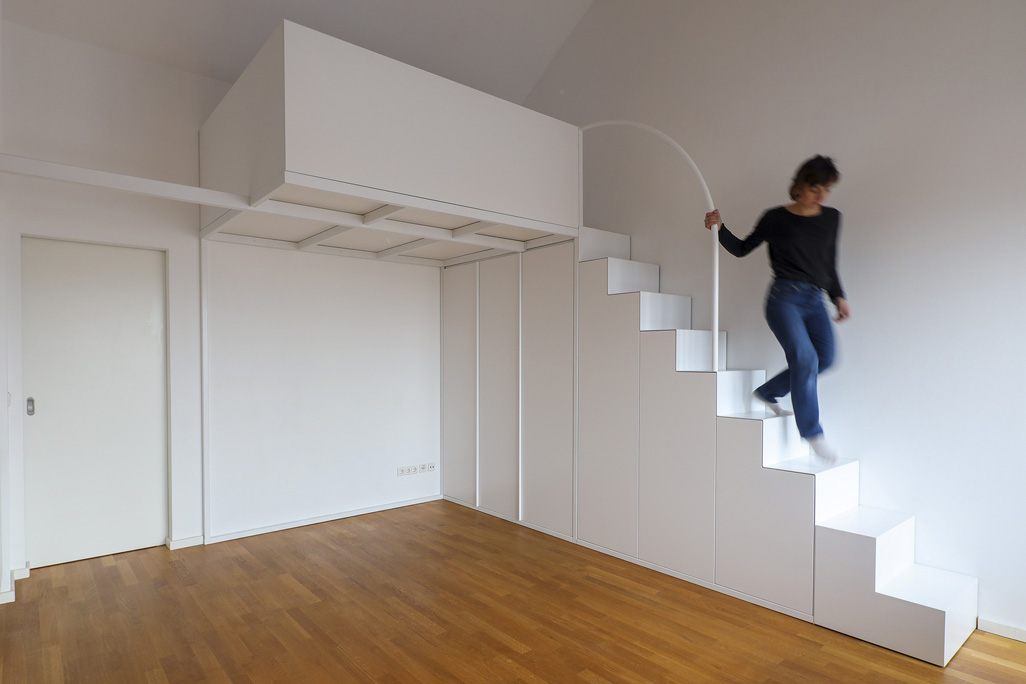 INFOSProject: MEZZANINE FOR A PRIVATE APARTMENT
Completion date: 12/2022
Location: Zehdenicker Str., BERLIN Mitte
Architect: Paola Bagna & Kristina Hendker
Area: 50 m2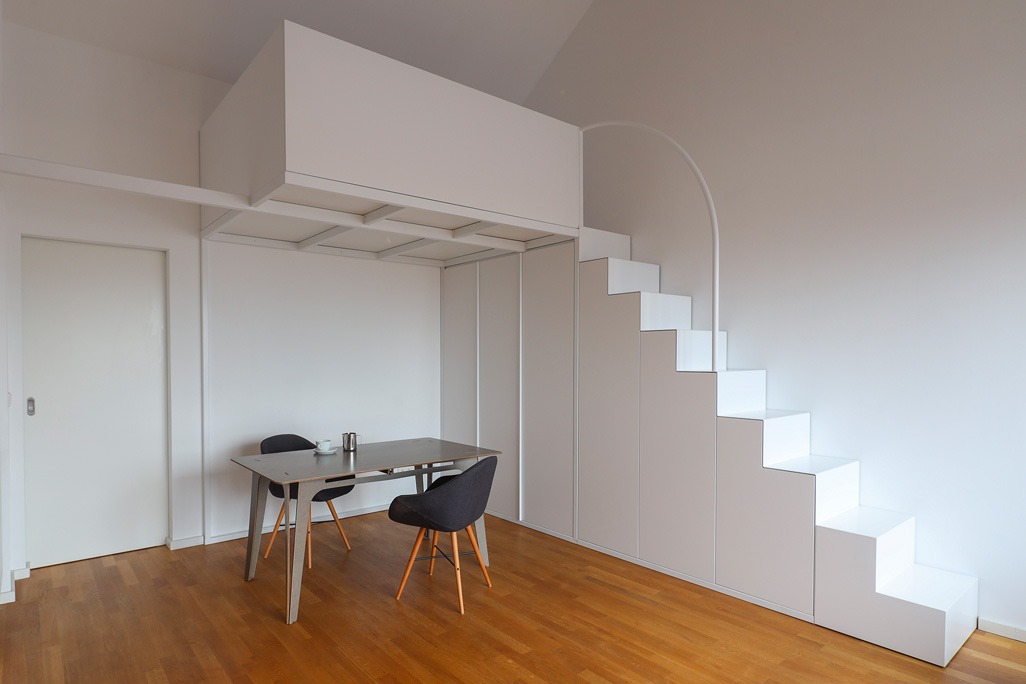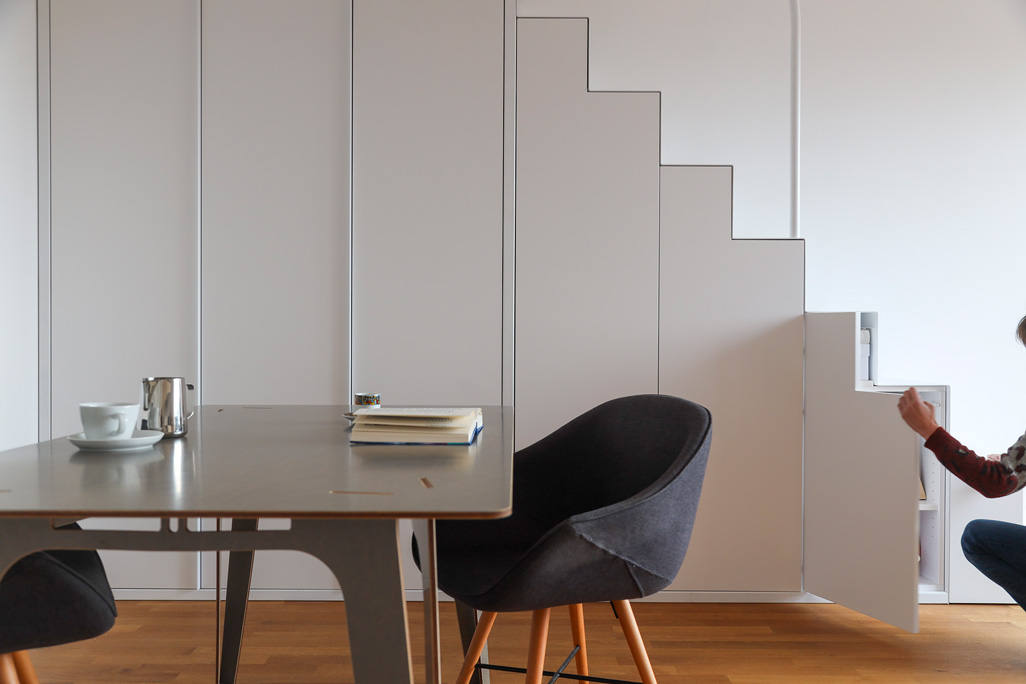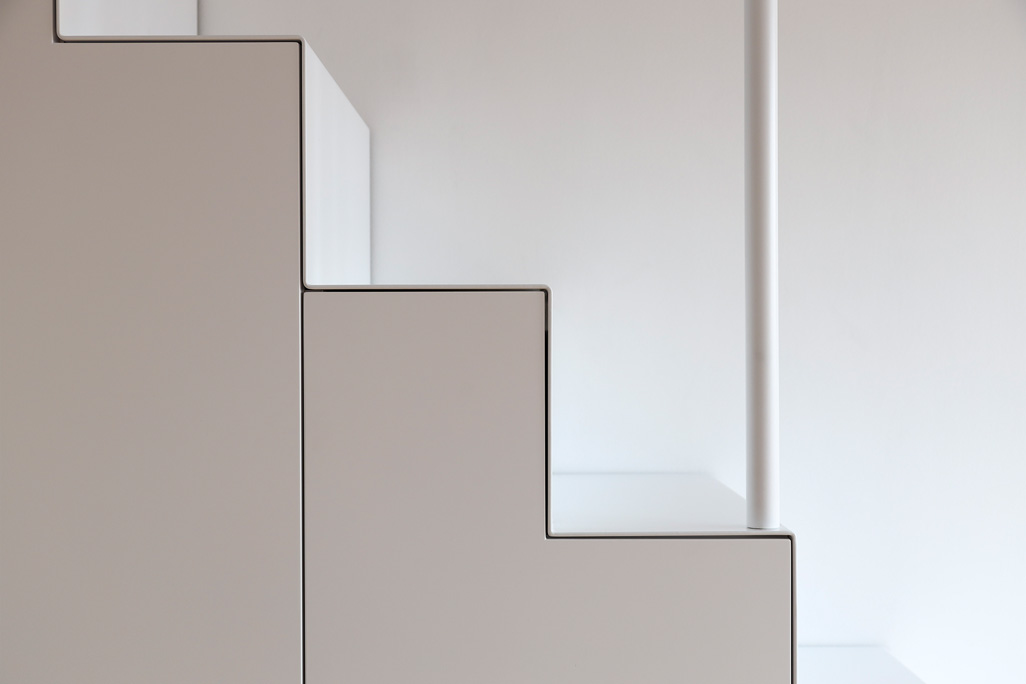 This 50-square-metre apartment in Berlin's Mitte district was transformed with a mezzanine and new storage. The original floor plan consisted of an open kitchen and living space plus a separate bedroom.
Located at the loft level of the apartment building, the ceiling reaches 4.25 meters at its apex.
The brief called for a second sleeping area, wardrobe, and storage for belongings in the main space, plus an integrated pull-up bar for fitness. The client wished for a minimal and light impression.

The mezzanine was designed to be as unobtrusive as possible, while still providing the necessary space and functionality. The structure is made from 5x5cm square steel profiles, which are painted in matte white to blend in with the walls.

A 350-centimetre-long portico spans wall to wall, avoiding the need for a pillar in the space below. This allows for free circulation and a range of furniture underneath.
Three steel frames support the new level, one following the partition wall to the bedroom, and two running perpendicular to the first to support the upper level 220 centimetres from the floor.


The staircase is made from folded steel and has seven risers.
The two lower steps are free-standing and easily moved away to prevent children from climbing up. This element also functions as a side table and conceals an extra shelf on the inside.
All requirements were seamlessly integrated into the design, from the sleeping area to the wardrobe and cupboards.
Details such as the flat vertical steel profiles as wardrobe handles or the handleless push-pull cabinets under the staircase enhance the minimalist aesthetic.

The overall impact is sculptural and minimalist, lending a sense of calm and lightness, but with solidity.
The handrail forms a curve to contrast the angular nature of the structure. Both steel and wood elements are lacquered in matte white.
This mezzanine is a way to add surface area to a small apartment with high ceilings, meeting the needs of the residents perfectly and maximising the volume with a bold intervention.