Plus One
Berlin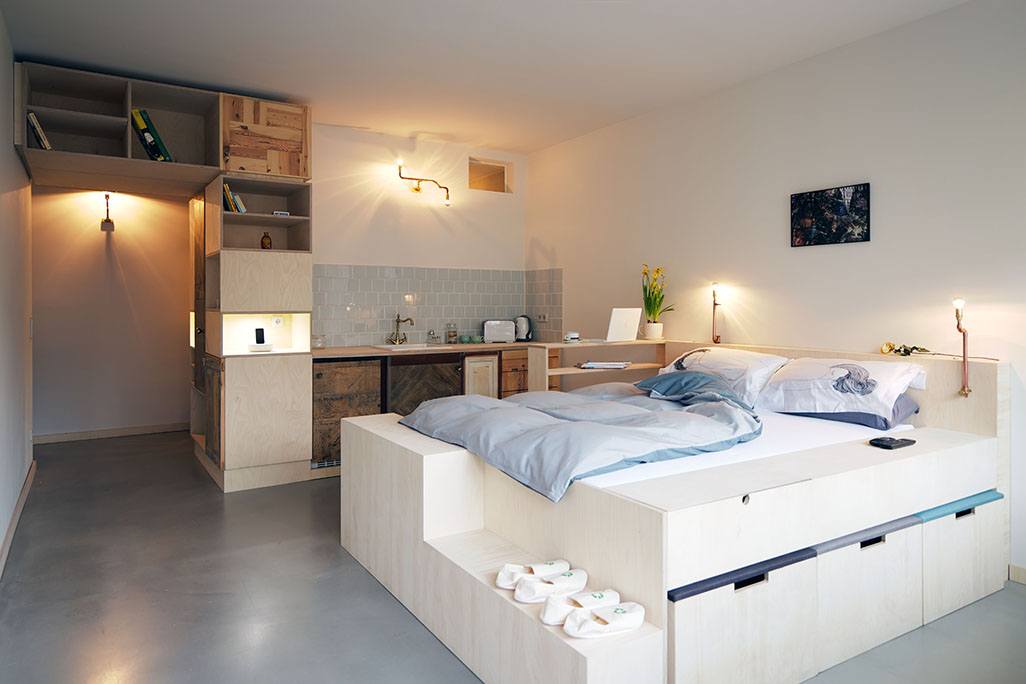 INFOSProject: Interior and furniture design for a one room hotel
Completion date: 03/2012
Location: Reuterstraße 28, Berlin NEUKÖLLN
Architects: Paola Bagna & John Paul Coss
Area: 30 m2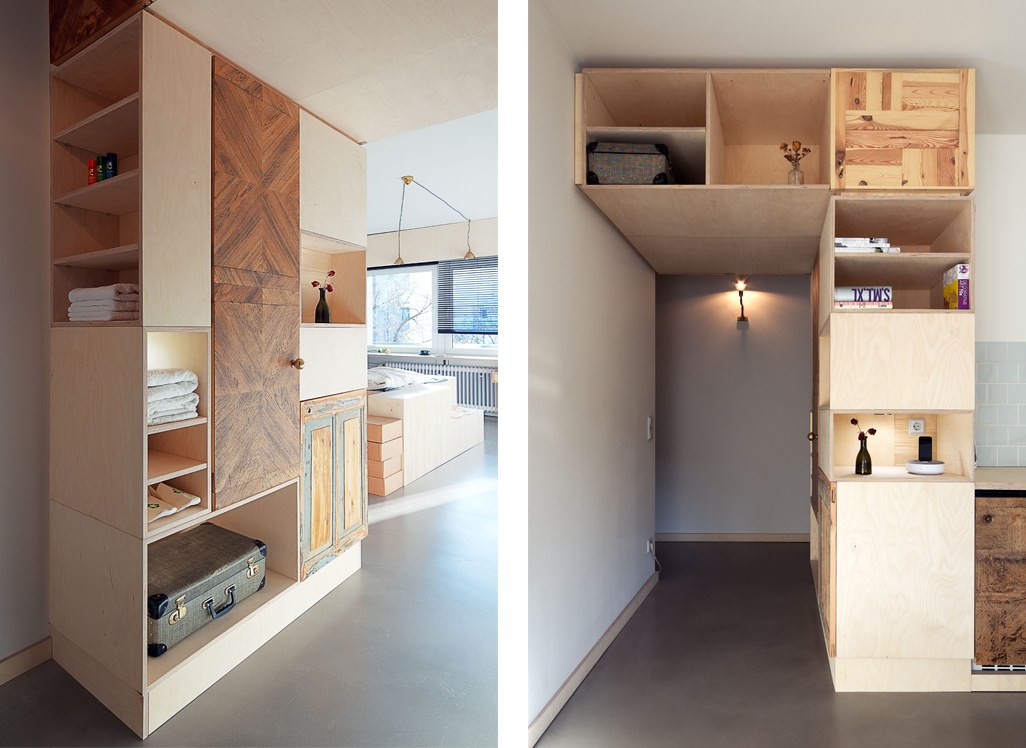 The refurbishment of the Plus One Berlin space has the following aims:

- To be an alternative to the standard image of a 'hotel room'

- To be a multi-purpose space that combines different elements and materials

- To be a reflect of its surroundings: the creative, raw and surprising neighbourhood of Neukoelln

- To re-use and showcase salvaged materials in its design.

The avoidance of dividers, the search for flexibility and the multiplicity of uses of the elements have been a key point in the design. As the space is small, the shape of the units has been kept simple and functional so they can be used in multiple ways. There has been a particular focus on detail and the materials used. The main unit can be used as a cabinet for clothes, as a storage unit and also as a kitchenette. It changes its orientation and the shape and type of its openings depending on the relationship with the areas it serves. For instance, it provides shelving for toiletries and towels next to the bathroom, but also serves as a cupboard and storage unit for suitcases at the entrance area. It also provides private storage for the Owner. The kitchen and shelving areas for books are in contact with the main space.

 The central piece of furniture is conceived as the bed, but it also creates a bar area with stools next to the kitchenette.
There is a container for the third bed which can be divided in to three modules that are three individual seats. Thus, it also changes its shape depending on its position in the space and the function that it is closer to. The wood bar next to the window can be used as a desk but can also be used as a dinner table on a warm evening: when the window is wide open, one person can sit inside and the other outside.

The 30sqm space has been designed to allow maximum usage. The shape and functionality of the elements have therefore been carefully considered.
The use of recycled/salvaged materials and objects (tiles, wood, lamps, door handles) has been another very important factor in the design process. The main unit is a mixture, a 'collage' of new plywood and salvaged old panel doors and old parquet floor boards, which have been re-worked and altered to fit their new use.


All the lighting in the main space is either restored brass lamps or custom-made lamps made out of old copper pipes, shaped depending on the spot that they have to light.


The design of the Plus One Berlin space brings together functionality, flexibility and showcases not only the re-use of materials but also how forms and units can be designed for multiple uses. The furniture is not furniture anymore, but elements fully connected by function not only to the space itself but to other elements.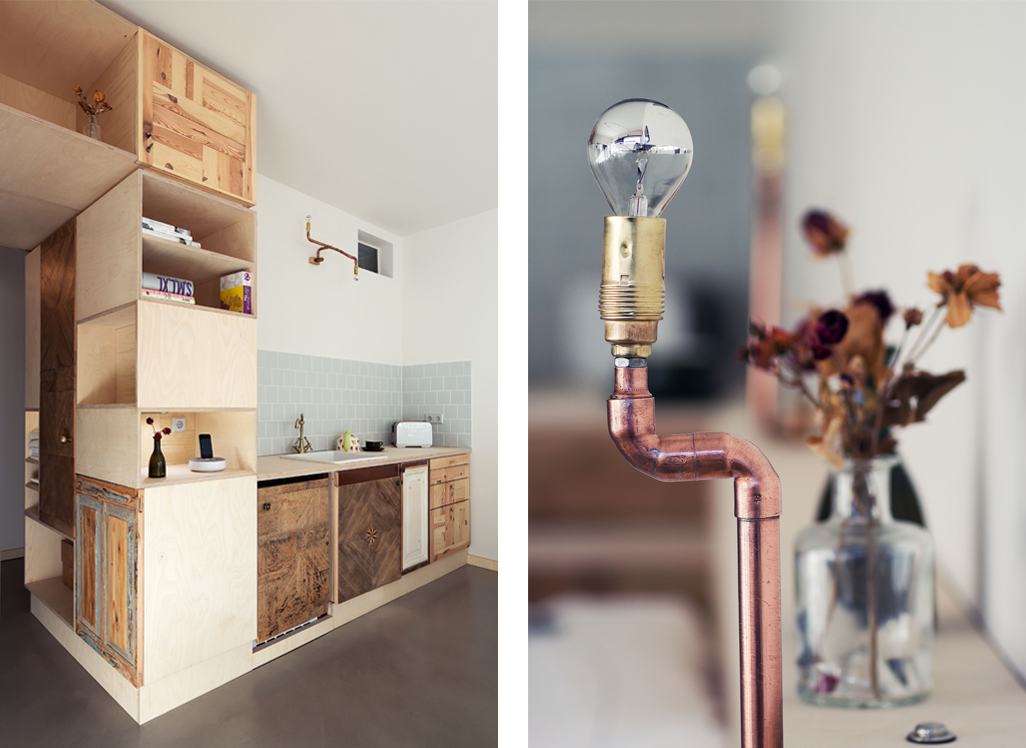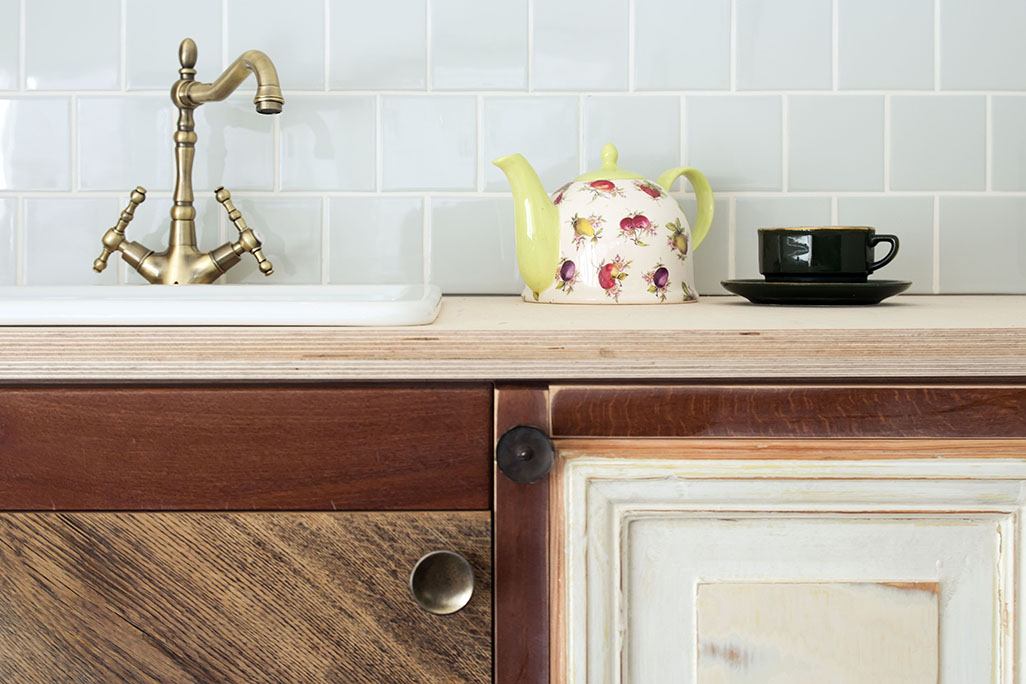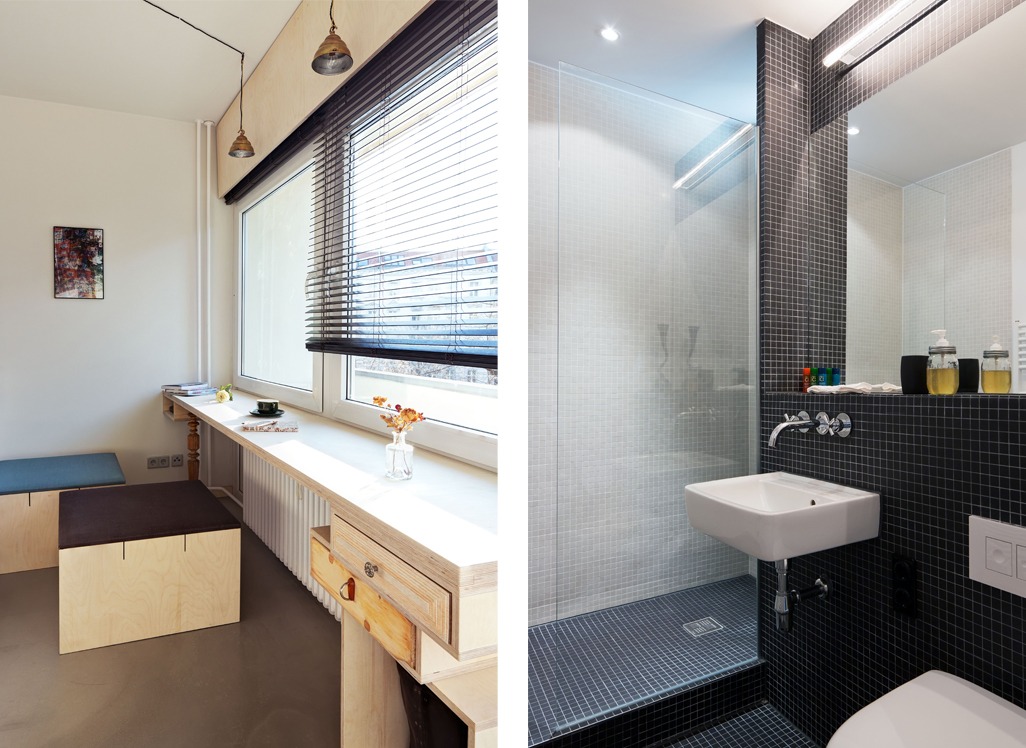 drawings